Music Releases 03-19-21
Quick View
On August 20, 2020 the world lost an amazing light with the passing of Justin Townes Earle. Justin was a vibrant songwriter who could play the blues, country, and rock n roll all in the same song.  In his short career, Justin released eight albums and one EP that all manage to sound classic and yet inventive.

Justin's father, Steve Earle, pays tribute to his son by recording an album of songs written by Justin titled, J.T.  The album consists of ten Justin Townes Earle songs as well as one song written by Mr. Earle shortly after Justin's passing. J.T. features fan favorites such as "Harlem River Blues," "Far Away In Another Town" and "Champagne Corolla" along with lyrically heavy songs like, "The Saint of Lost Causes" and "Turn Out My Lights."

J.T. is a loving tribute to a loved son and beautiful songsmith who left this earth too early.  But in his wake, Justin left a wealth of beauty.  All proceeds from this release will be put into a trust for Justin's 3 year old daughter, Etta.
Quick View
Limited-Edition Gatefold Vinyl Smoke Color with 2 LP. 2021 release, celebrating 10 years with Better Noise Music. Greatest Hits Vol.2- The Better Noise Years features 21 tracks and comprises 12 of the top 10 hits from 2010-2019. The Album consists of various songs from the five albums that were created with Better Noise Music including: Time for Annihilation..On The Record & On The Road, The Connection, F.E.A.R, Crooked Teeth, and finally Who Do You Trust? It features the smash song "Help" from their 2017 release and has been certified Gold by the RIAA, selling over 500,000 copies in the United States Alone. The Limited-Edition Gatefold features seven songs that are either remixed, acoustic and one that has a feature. Celebrate Papa Roach's success!
Quick View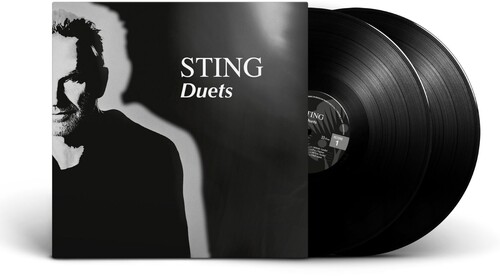 Always known as a musical explorer, pioneering genre-bending sounds and collaborations, 17-time Grammy Award winner STING will release a new album, entitled Duets. From the melismatic longing of "Desert Rose" with Rai music singer Cheb Mami and sultry groove of "It's Probably Me" with Eric Clapton to the uplifting 44/876 with Shaggy, which yielded his most recent and 17th GRAMMY award, Sting's collaborations have become nothing short of cornerstones in the canon of popular music. To celebrate some of these joint-works, he has compiled a special collection to include some of his most beloved duets with collaborators such as Mary J. Blige, Herbie Hancock, Eric Clapton, Annie Lennox, Charles Aznavour, Mylène Farmer, Shaggy, Melody Gardot, Gashi and more. The Duets album will also include the brand new, never-before-released song, "September" with Italian icon Zucchero, produced by Sting himself and mixed by 4-time Grammy Award winner Robert Orton. 2LP PACKAGING: 180-gram double vinyl in a gatefold jacket